Recently a new kind of email spam started making rounds around the web. Here is a screenshot from my inbox: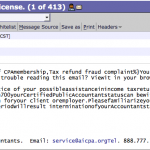 (Click the thumbnail to see the full-size screenshot)
So what's wrong with this exact kind of email spam and why it doesn't achieve any goal at all and is just wasted bandwidth?
1. If you are trying to target accountants you surely need to have a more targeted email list. Either learn to scrape emails from more targeted sources or stop dealing with the crook who sold you this email list as a targeted one.
2. Learn to use your spinning software. Learn proper syntax. Learn to make spaces between words. Learn to preview the spinned results.
3. Learn to attach the attachments, especially if that's the actual purpose of your whole spamming campaign 🙂
4. Learn to use proper anonymous proxies that won't make it possible to track you back to your Kenyan lair
Received:

from [41.215.28.10] (helo=41.215.28.10.accesskenya.com) by nnnnnnnnn.com with esmtp (Exim 4.69) (envelope-from <manager@aicpa.org>) id 1S0tHI-0004fy-Le for info@irishwonder.com; Fri, 24 Feb 2012 05:25:33 -0600
from (192.168.1.23) by aicpa.org (41.215.28.10) with Microsoft SMTP Server id 8.0.685.24; Fri, 23 Feb 2012 14:25:31 +0300
Nothing worse than clueless newbies with tools *rolls eyes*