Those of you following me on FriendFeed already know that I've been rehosting this blog – which has now been completed successfully, with much less hassle than the irishwonder.com one. While at it, I had Earl Grey email me some of the old files from the previous server and when I opened the email in Gmail here's what I have noticed: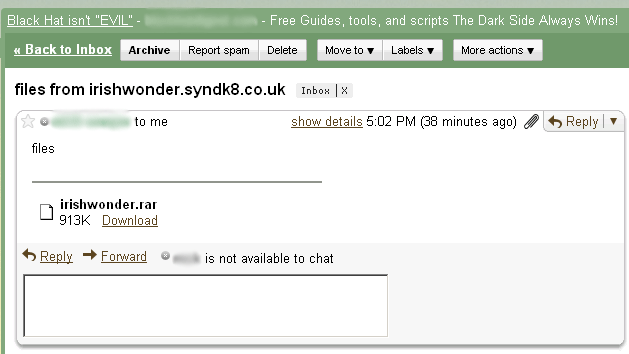 There wasn't a single word in the email referring to blackhat SEO or anything of the sort – there was, as you can see, only the mention of Syndk8 and me – and yet it was enough for Google to target this ad at me. I obscured the actual site URL not to provide any free advertising to yet another clueless newb wanting to cash in on an ever-so-popular (up to the point of becoming painfully mainstream) concept of Black Hat SEO.
What proves my point even more is the fact that it's not the first or one of a few sites trying to cash in on blackhat I've seen lately. The other day, I came across a newly started forum of another clueless newb – again, claiming to be a useful source of information about blackhat seo – yea well, maybe in a few years, dude, so far the forum was pretty empty. That one, though, had quite a creative way of promoting himself – he was distributing torrents of popular BH software with its title modified to include his site's URL – if only the software owner doesn't catch him at some point and kick his arse he might even be able to create himself a small following of equally clueless newbs – blackhat wannabes.
As I watch it all I am not worried about "competition" or disappointed or anything – first of all this is no competition to seasoned blackhats who do more than they talk. Gaming Google has become so much more difficult that it actually requires skills, experience and a good deal of creativity these days – not just stealing somebody else's tools and running off with them. These wannabes give blackhat SEOs a bad name – well guess what, our reputation has never been really fluffy so who cares. I am only slightly nostalgic about the days when Syndk8 was the only blackhat SEO forum, we were the only blackhats, all mainstream forums used to kick us out so we had to start our own place to talk about BH and share our ideas – since we had a lot to share. Do these mainstream wannabes have anything worthy to share? Somehow, I doubt…
But those of you just starting and not knowing any better – watch out, they are in it for your money. Well, I guess everybody does what they can to make their dollar or two – but use your best judgement and check around what everybody is saying about them before getting out your credit card.